Wow! April is a month filled with events – this is just some of what's happening at the hall.  To see the complete list check out our Cran Hall Calendar
Sat, April 2nd – 7:00pm
Poetry SLAM!
SLAM is a spoken word competition where the brave, bright and loud get on stage to share their words in front of a hollering, cheering, supportive crowd. At the end of the night a poet is selected as the reigning word warrior and immortalized in name on the one and only SLAM CHAMP medallion. (Our own president Scott Ritter is the reigning champion. Will he be there to defend his title or will some other take his place? Come find out.) All ages are welcome and all skill levels are encouraged. Admission by donation. The Powell River Poetry Slam is co-sponsored by the Powell River Public Library and the Cranberry Community Hall Association. It occurs biannually in March and October.
Visit the Slam Facebook event for more details:
Sun April 3 – 7:00pm
Film Night
The first Sunday of the month has been chosen for our Cran Hall film nights and we are very pleased to present 'From the Waste Up – Life Without Plastic' for April, which also happens to be Earth Month.
This film explores the concepts of consumerism, convenience, disposability and going without by following the trials and tribulations of the filmmaker Taina Uitto and six other families as they challenge themselves to take a break from their plastic habits.
Taina and the Let's Talk Trash team will be in attendance for discussion. Admission by donation (suggested $7).
For more information see our Facebook event page  or the movie website
Tue April 5th – 7:30pm
The Fretless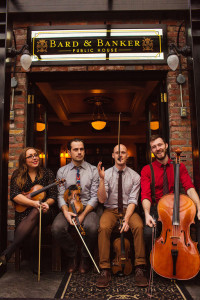 Pat Buckna Presents
THE FRETLESS
2014 Canadian Folk Music Assoc. – Ensemble of the Year
2014 Western Canadian Music Assoc. – Instrumental Album of the Year
2012 CFMA Ensemble of the Year and Instrumental Group of the Year
2012 WCMA Instrumental Album of the Year
The Fretless quartet is adept at blending styles with each member playing stringed instruments (violin, viola and cello) and mixing genres to create a performance that is unusual, engaging and innovative. They've appeared twice before in Powell River to rave reviews and offer a high-energy deeply moving musical performance. The group's sound is perfectly suited to the great acoustics at the Cranberry Hall and we hope you won't miss this dynamic quartet.
TICKETS: On sale now at River City Coffee, $18 advance, $20 at the door
Fri April 7 – 7:00pm
Laura Wallace's Fiddle Jam
Hosted by Laura Wallace on the second Friday of every month (except July and August). Everyone welcome. The tune will be posted a week in advance. $5-$10 to pay for hall rental. Come and kick up your heels and have a good time.
More info: http://cranberryfiddlejam.ca/
Sun Apr 10 – 2:00pm
Sunday Song Circle – New Beginnings
April is the beginning of the new astrological year, so this month's song circle is all about New Beginnings – perhaps a song about a frest start, or simply a new song you've learned that no one has heard before, or a new technique you want to demonstrate for everyone. Maybe you learned a new instrument or found out about a new singer. Maybe you song contains the word 'new' or 'beginning'. Or maybe it doesn't – that's fine too. After all, the Sunday Song Circle is about songs, any kind of song, and and all instruments or voices are welcome. We'd love it if you come out and join us. Last month some people came just to listen and the people who played all loved an appreciative audience. Hope to see you Sunday April 10th at 2:00pm.

Admission by donation ($5 or what you can afford).  Join us and join our Facebook group
Sat Apr 16 –
Spring Fling with a Twist
A fundraiser and an evening of fun for our board member Dee Light organized by her friends
Doors open at 6pm, dinner starts at 6:30pm
Curry Cook off
6 contestants compete to make the tastiest curry dish. Cash Prize of $100, a loving cup and bragging rights of course. Judging will be people's choice. Ballots will be counted at 7:30pm.
Music
There will be electronic music for our dancing pleasure after dinner, as well as an open stage for locals to strut their stuff. So musicians, bring your tools of trade.
"Bundles Of Gratitude"
50/50 draw, Silent Auction , door prizes on every hour
This is an alcohol free family event.
Tickets will be $20 each and available at River City Coffee, Velma's Candy/ Urban Earth Teas and Earth Inspirations Pottery.
Sunday Apr 24 – 7:30pm
Acoustic Coffeehouse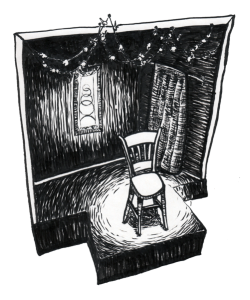 Hosted by Scott Ritter. Musicians, poets, storytellers, comedians and others performers are welcome, or come and just be part of the supportive family friendly audience in a relaxed café setting. Coffee, tea and snacks are available. Admission by donations ($5.00 suggested). Performer signup is from 7:00-7:30 only.