February 2016
February 14 2:00pm
Monthly Sunday Song Circle hosted by Pat Buckna.  February's Song Circle is scheduled for Valentine's Day This month our theme is LOVE (never ending, careless, new, faded, lost, unrequited, puppy, true or any other type).
Bring your sweetie and some love songs to sing. If you know anyone who would like to join in or just come to listen, please invite them to come and join our group.
Admission by donation ($5 or what you can afford)
Friday Feb 12 – 7:00pm
Laura Wallace's Fiddle Jam
Back up and running in February and for the rest of the year! Second Friday of every month (except July and August).
Our next jam is Friday, February 8th 2016 and the Cranberry Hall. 7pm. Everyone welcome. The tune will be posted a week in advance. $5-$10 to pay for hall rental. Come and kick up your heels and have a good time.
More info: http://cranberryfiddlejam.ca/
Sunday Feb 21 – 7:30pm
Acoustic Coffeehouse
Hosted by Scott Ritter. Musicians, poets, storytellers, comedians and others performers are welcome, or come and just be part of the supportive family friendly audience in a relaxed café setting. Coffee, tea and snacks are available. Admission by donations ($5.00 suggested). Performer signup is from 7:00-7:30 only.
Sunday Feb 28 – 7:30pm
Pat Buckna Presents
The Crooked Brothers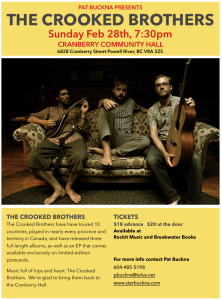 The Crooked Brothers have have toured 10 countries, played in nearly every province and territory in Canada, and have released three full length albums, as well as an EP that comes available exclusively on limited-edition postcards. Music full of hips and heart. The Crooked Brothers. We're glad to bring them back to the Cranberry Hall.
TICKETS
$18 advance $20 at the door
Available at 
Rockit Music and Breakwater Books
For more info contact Pat Bucknan 604-485-5198
pbuckna@telus.net   http://www.starbuckna.com