September is shaping up to be an exciting month at the Cranberry Hall.  We have two music workshops (one free!), two concerts, and the startup of our fiddle jams, Sunday Song Circle, and Acoustic Coffeehouse.  This is in addition to the monthly Sacred Dance Circle.  See the Calendar for more details.
Friday Sep 2nd  2:30-4:30pm
Chris Ho Music Workshop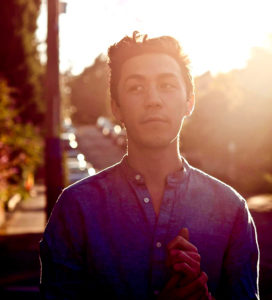 Chris is one of the performers at this year's Sunshine Music Fest and will be presenting a collaborative songwriting festival free and open to the public. He will be sharing philosophies on song-writing/poetry/art, concepts like surrealism and the collective unconscious and will perform songs relevant to the themes covered in the workshop. Chris will provide handouts and the group will write a song together then put this to music. Pre-registration not required.
Co-sponsored with the Cran Hall and Sunshine Music Fest.
Sunday Sep 11th  2:00-5:00pm
Sunday Song Circle
Hosted by Cran Hall Board member Pat Buckna, we gather monthly to play songs, sing, or just listen to others.  Each month we pick a theme and everyone is welcome. Admission by donation. Visit our Facebook page for more information
Saturday Sep 17th  2:00-4:00pm (workshop)
7:30pm (concert)
Tim Williams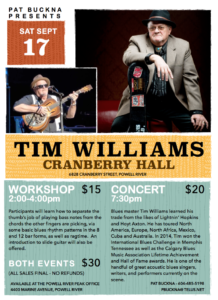 Pat Buckna Presents Tim Williams, an international award winning blues and roots guitarist and singer who not only is a great performer who agreed to share some of his fingerpicking and slide guitar techniques with anyone who wants to extend their knowledge and skills on the guitar.  Open to players at all level, Tim will show you how to get your thumb and fingers working independently.  In the evening Tim will entertain everyone with selections from his vast repertoire of songs and stories gathered over many decades of performing all over North America, Europe, North Africa, Mexico, Cuba and Australia.
Tickets – Concert $20 and Workshop $15 or $30 for both are available at The Peak newspapers offices (4200 Marine Ave.) or from Pat Buckna (pbuckna@telus.net)
Sunday Sep 18th  6:30pm
Sacred Dance Circle
Sacred Circle Dance is a grass roots movement with a collection of dances for people who enjoy cultivating the sacred energy of community and of the elements. The dances have had symbolic meaning attached to them either by virtue of the movements and steps or the combination of music, verse and movement. Hosted by Laura Berezan (lberezan@shaw.ca) monthly event open to the public by donation. Drop-ins welcome.
Saturday Sep 24th  7:30 om
The Walter Martella Trio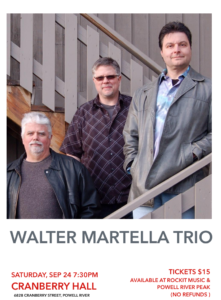 Pat Buckna is also presenting The Walter Martella Trio at the hall. Local jazz masters Walter Martella on keyboards and trumpet, Rob Reed on drums, and Doug (Buffalo) Saunders on bass will provide an full evening's worth of classic and modern jazz tunes ranging from cool ballads to swinging improvisions that will be sure to delight everyone.
Tickets – $15 available at The Peak newspapers offices (4200 Marine Ave.) or Rockit Music on Alberni Street.
Sunday Sep 25 – 7:30pm
Acoustic Coffeehouse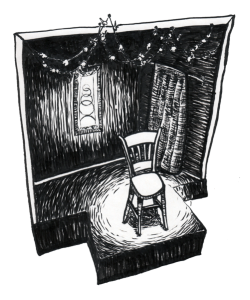 Hosted by Cranberry Hall President Scott Ritter. Musicians, poets, storytellers, comedians and others performers are welcome, or come and just be part of the supportive family friendly audience in a relaxed café setting. Coffee, tea and snacks are available. Admission by donations ($5.00 suggested). Performer signup is from 7:00-7:30 only.